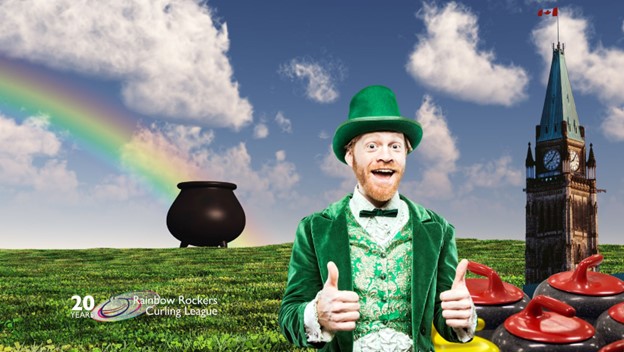 Get ready to join us for the Over the Rainbow Bonspiel in Ottawa from March 17-19, 2023!
Registration is now open! Places are limited so click here to submit your registration and secure your spot.
Bonspiel details:
The Rainbow Rockers Curling League is excited to host our annual bonspiel and welcome teams from across Canada to the nation's capital. Come celebrate our league's 20th anniversary and join in for some good curling and St. Patrick's Day themed fun!
Here's what you can expect:
Where: The bonspiel will take place at the Ottawa Curling Club, 440 O'Connor Street. Expect a fun atmosphere, stocked bar, and friendly staff all weekend!
When: Curling begins with a first draw of round robin play at 9:00am on Friday, March 17, and ends with a last playoff game beginning at 5:00pm on Sunday, March 19 (for those in the finals).
What: Every team is guaranteed three round robin games. The top half of teams will make it into the playoff rounds. Four teams in the bottom half will get to play in the "lucky loser" event. On the social side, registration includes coffee and light refreshments all weekend, a dinner on the Saturday and some fun entertainment!
Fee: The registration fee is $420 per team, to be paid once your spot has been confirmed.
Keep an eye on this webpage for more information on:
Recommended host hotel for those travelling from out of town
Planned entertainment
Additional draw details