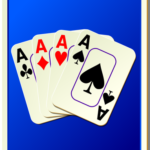 Please join us for Euchre and Rummoli after our Saturday games on November 10, 2018. Our games night is a fun way to warm up after your game and enjoy a great time with friends.
Are you game? Partners, family and friends are welcome!
Registration starts at 6:30 p.m. and games start at 7:00 p.m. sharp. The euchre format will be 6 games with cash prizes going to the top scorers and to the player with the most lone hands. Rummoli players benefit from splashed pots. There will also be a 50/50 draw and several other fun prizes during the night.
Entry for both Rummoli and Euchre is $20.00 and includes snacks. All fees will be collected at the time of registration. Cash payment only.
To secure your spot please email [email protected] before November 8. Please indicate whether you will be playing Rummoli or Euchre